LENDON Properties now listing on MLS; Streets readied for Construction; Building Markers go up & Trees and Curbs Go In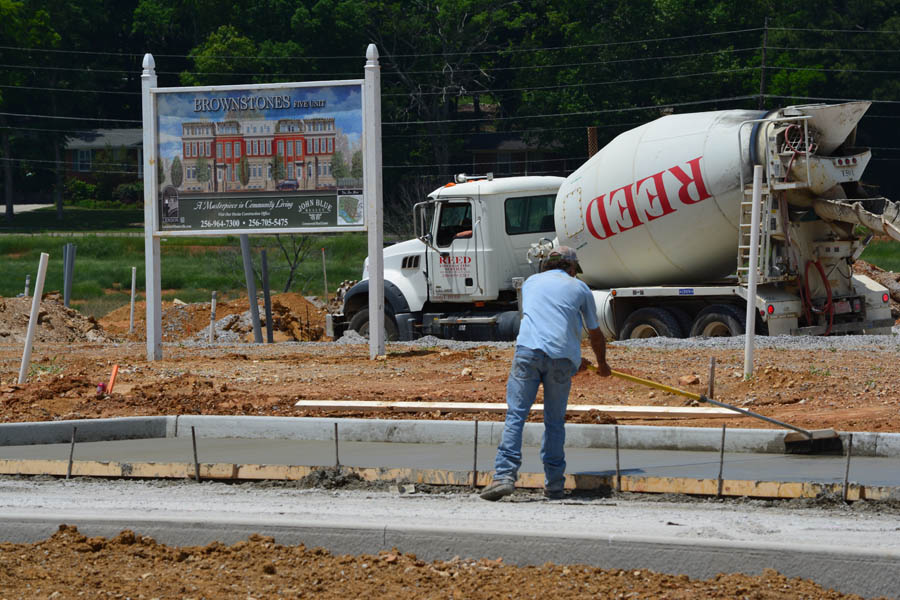 It continues to be a very busy time at LENDON; now that the weather is cooperating, construction is going ahead full steam, and properties are now being listed on MLS. Continue reading for details and other recent news.

A Home by John Allen at Southern Construction & Design, Inc. is the first Property within the LENDON Development to be entered into the Multiple Listing Service. WIth LENDON streets nearly ready for construction to begin, more such properties are soon to follow.
We proudly provide the link to this MLS Listing below. Feel free to take a look … it may be the key to your family's dreams!
http://nalmls.com/NALMLSReports/ListitLib/report_builder.aspx?category=1&r1=33P8EmNmD1jPNMcbMzGj%27H&m1=w.)uu0XO&footer=505757557474&maillog_id=9219293169
Check our website often for more LENDON news and MLS updates.
STREETS PASS COMPACTION TESTS:
The Streets of LENDON have passed the City inspections for compaction. The gravel base has been laid, the curbs and street parking spaces are being poured, and asphalt is scheduled to go down next week. Once the streets are ready, construction on the homes and buildings is then scheduled to begin (See Photos of LENDON's Street Construction Below).
TREES:
Many of the great variety of trees ordered for landscaping LENDON have arrived at the development and will be going in the ground soon. Included varieties are Duraheat River Birch, Blackgum, Chinese Pistache, Swamp White Oak, Bald Cypress, and yes, included appropriately are quite a number of Linden Trees (See Photos Below).
BUILDING MARKERS:
Marker Signs are being erected directly on each building's construction site (See Photos Below). This will help those touring the Development to better understand where these larger structures and community buildings will be positioned.
For an overall view of the Development, a Marker Sign showing Phase I is now facing the South Entrance near Four Mile Post Road, and a Marker showing LENDON's Master Plan is at the Jones Farm Road Entrance off of Carl T. Jones Blvd.
A 3D Model of the LENDON development is available for viewing inside our Construction Trailer. Feel free to stop by during business hours, or call (256) 963-7300 or (256) 705-5475 for an appointment.
For an interactive overview of the Development, a virtual tour is available at the top of the home page, here on the LENDON Website.
BROWNSTONE DESIGN FINALIZED:
This Design for the Brownstone Buildings is now under Final Review. See this final design in the photo section below, and look for the Brownstones to start comming out of the ground in the next sixty days.
STREET CONSTRUCTION PHOTOS:
LANDSCAPING TREE PHOTOS:
BUILDING MARKER SIGN PHOTOS:
BROWNSTONE DESIGN IMAGE: