Home Construction Continues! … and much much More! (see story and photos below)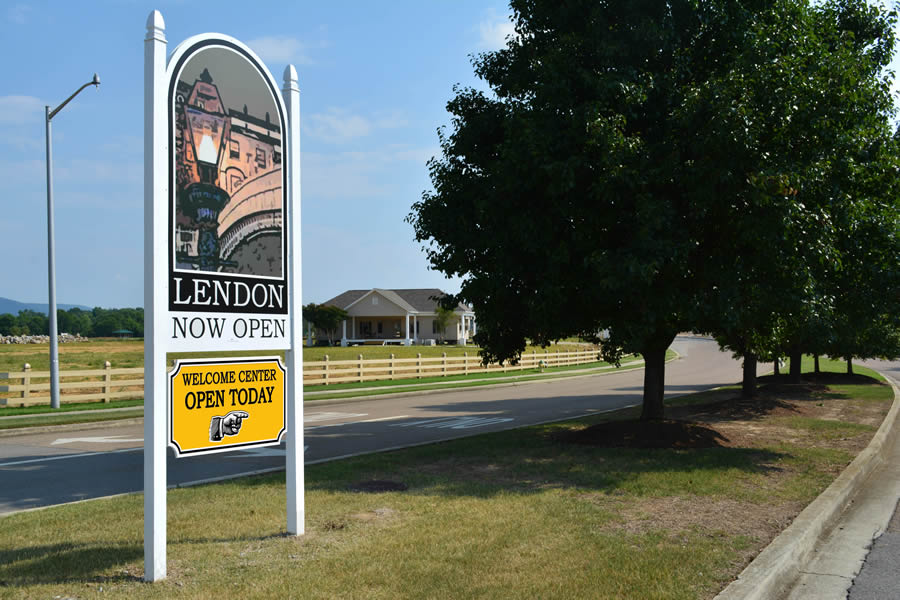 The time has arrived, and beautiful homes are now coming up out of the ground in LENDON's Masterpiece Community! Footings are being poured, foundations are being laid, and framing is going up, creating new homes in the Classic Styles of the Old South.
Yes, those who reserved their space in LENDON early are now realizing their dreams; to live in a new home with "Old-Southern" charm in the beautifully scenic surroundings of Jones Valley. They will find themselves linked to a beautiful Park with walking paths and fishing ponds, and will be within an easy stroll of their community's own boutique shops and gourmet restaurants, as well as convenient to additional shopping, and state of the art movie theaters.
With the good weather on our side, LENDON is taking shape beautifully, with new things happening every day.
Along the western portion of Ahearn Lane is a newly landscaped rock retaining wall, which now separates the lane from the Creek which runs parallel (see photos below). Willow Creek (formerly "Beaver Creek" or "Trib.12") will be incorporated into Willow Creek Park, one of LENDON's additional green spaces scheduled to be added as part of LENDON's Phase III Development (click here for Site Map).
The Sidewalks which will allow residents to transverse the community on foot, were begun by John Russell's Crew just last month, and are now already being masterfully completed.
The Landscaping for LENDON Canal has also begun, with the initial clearing of the waterway of scrub-brush, and heavy equipment now lifting and shaping all of the canal's natural water features (see photos below).
Custom-made LENDON mailbox posts and mailboxes will be arriving soon, and each and every Homeowner will receive one of these wrought iron beauties as a housewarming gift from LENDON. See photo below, or stop by our Welcome Center to get a close up, firsthand look!
WELCOME CENTER:
Improvements continue to be made at LENDON's on-site Welcome Center to make things more comfortable for you – our guests (see photos below).
The Center is now scheduled to be open Monday through Friday from 9:00 AM till 5:00 PM, Saturday 10 AM till 4:00 PM, and Sunday Noon till 4:00 PM, except for certain Holidays. Look for LENDON's new Location Sign along Carl T. Jones Drive, and the bright yellow sign underneath that says "OPEN TODAY"! To insure that a staff member will be available for you when you arrive, please be sure to call ahead.
We hope you will stop in and enjoy the air conditioning, or relax on the comfy patio furniture outside on the Center's new front porch. Enjoy a snack or beverage while you relax, or as you chat with one of LENDON's friendly staff.
Take a peek at our architectural style books, and all the exciting things scheduled for the Community, and be sure to pick up a free LENDON Information Packet while you are there. Information Packets can also be ordered through this website by clicking here
Please remember that special appointments are always welcome, and can also be arranged by Phone, or by Email through the "Contact Us" Page of this website.
We want you to know that there are currently some prime lots still available – ready for you to call home, so be sure to come see us soon!
We are thrilled to see the LENDON Community taking shape, and hope you will check our website often for the latest LENDON news and updates.