It's Beginning to Look a lot like LENDON!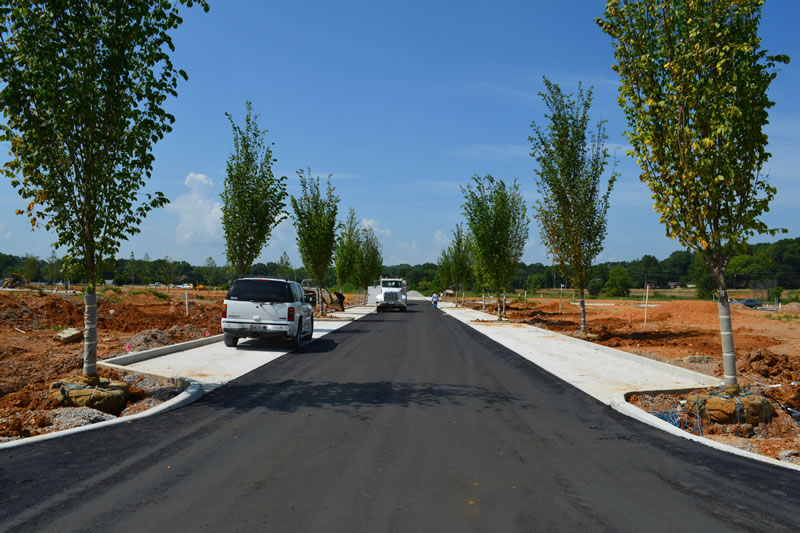 LENDON's streets are now completed and paved, beautiful trees now line the streets and alleyways, and LENDON's sidewalks will be going in soon (see additional photos below).

We are very pleased to announce that The Huntsville City Council has approved LENDON's final plat*, and new home construction will begin at LENDON this month!
Landscaping will also continue as many of LENDON's new trees will be planted along the Canal, and many more will soon be used in the upgrade & beautification of Jones Farm Park.
Other park enhancements include a gravel walkway which will lead from the Four Mile Post Road parking area, to the section of ground between the park's two ponds. Some cosmetic sculpting will be done as well, with small hills and berms being added to lend interest to the park's existing landscape.
We hope you are as thrilled as we are to see this exciting LENDON Community taking shape. We hope you will take a few minutes to stop by LENDON's on-site office to take a peak at the plans we have for the Community, and while there, pick up a free LENDON Information Packet.
Please note that LENDON Information Packets can also be ordered here through the "Contact Us" page of this website (just click here).
There's a "Lot" happening for you at LENDON, so be sure to check our website often for the latest LENDON news updates!
*A "plat" is the plan, map or chart of a tract or town site which divides the parcel of land into lots, and shows boundary lines, streets, actual measurements and easements.